Webinar: Decarbonising Data Centres
March 22 @ 6:00 pm

-

7:00 pm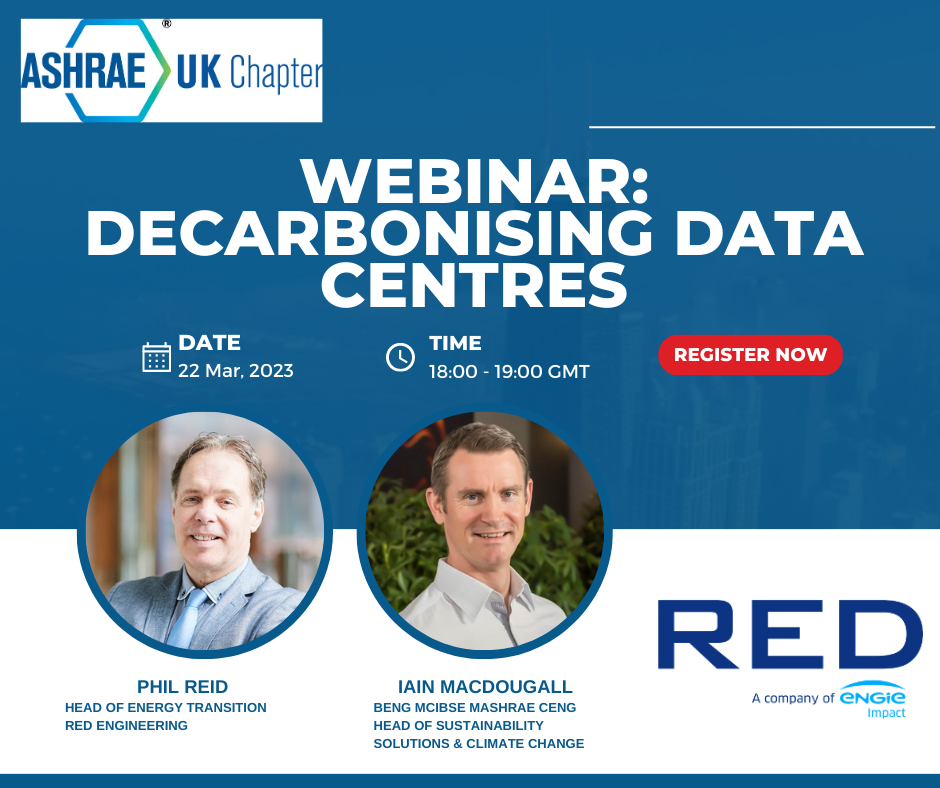 Presenters: Phil Reid & Iain MacDougall
Abstract: Data centres are large consumers of power and with the global insatiable demand for data, this sector presents some real challenges in terms of decarbonisation. The 1hr webinar covers the following topics:
The Status-Quo, What is a Data Centre and why do we need them.
Sustainability in the Data Centre sector.
Decarbonisation for the future.
Presenter Bio:
Phil Reid
Head of Energy Transition
Phil is a Chartered Energy Infrastructure & Building Services Engineer (CIBSE & Energy Institute) with over 30 years experience in the Urban Utilities, Renewable Energy and Built Environment Industries. Phil has been extensively involved in the oil and gas, heat and power infrastructure and complex building design & project management in the Middle East, Europe and South America.
In recent years Phil has been working with Tractebel Engineering SA, a sister company of RED within the ENGIE Group, and has joined RED Engineering to head up Energy Transition. In this new position, Phil will take on a business development and technical role to make the link between buildings and green infrastructures as the most effective way of achieving carbon neutrality in the international energy transition market.
This process will require sharing our inspired vision of what can be achieved with a diverse variety of stakeholders including public sector bodies, industrial developers and financial institutions using RED's impressive technical and commercial skills.
Languages spoken: English, French and Portuguese
Iain MacDougall
BEng MCIBSE MASHRAE CEng
Head of Sustainability Solutions & Climate Change
Iain is a Chartered Building Services Engineer (CIBSE) with over 20 years' experience in the MEP industry and has a wide range of experience in the sustainability & MEP design of hospitality, commercial office, healthcare, education, retail, residential, aviation and data centre projects.
Iain has delivered multiple projects as a team leader and key account manager as well as having responsibility for MEP design, sustainability, marketing, bidding, client care and business development.
In his capacity as Head of Sustainability Solutions & Climate Change at RED, Iain is responsible for developing a market strategy suitable to the RED business model, its brand and its global business strategy as we move towards a zero carbon future.