Webinar: Empowering Green Futures: Trends in Solar Energy & Mental Toughness for Success
November 22 @ 6:00 pm

-

8:00 pm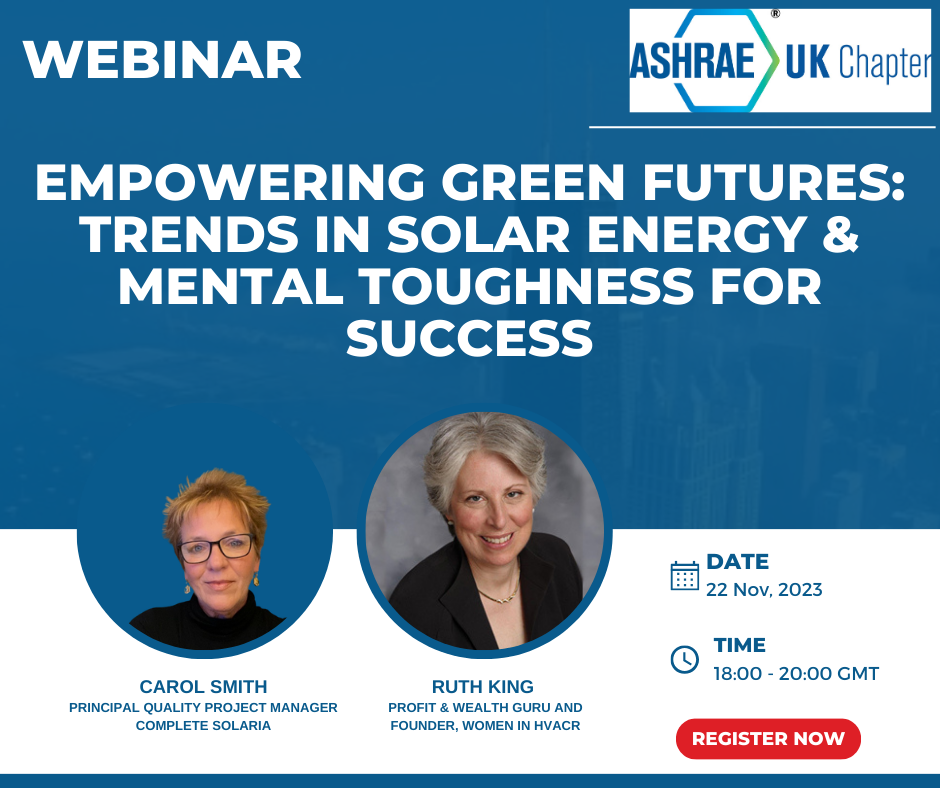 We are thrilled to have Carol Smith and Ruth King Join us for the our upcoming webinar on "Empowering Green Futures: Trends in Solar Energy & Mental Toughness for Success"
Trends in the Solar Industry…and the Benefits of Using Solar
Carol Smith – Principal Quality Project Manager, Complete Solaria
Going Green and reducing our carbon footprint is a key ASHRAE objective.  Part of this objective can be met using solar energy.  In this presentation, Carol discusses the history of solar energy, some of its challenges, and the benefits of using solar energy.
Carol Smith previously served as a Federal Program Manager at Hewlett Packard, before transitioning to the Renewable Energy Industry. She has held leadership positions at SolarWorld, working with Utilities and large EPCs on the development and construction of Utility Scale Projects before moving to Complete Solaria, a nationwide Residential Engineering Procurement and Construction Company. (www.completesolaria.com)
Be Mentally Tough
Ruth King – Profit & Wealth Guru and Founder, Women in HVACR
To succeed at work and in life you have to be mentally tough.  Ruth gives you the tools to help you navigate the ups and downs of your personal and professional life…and achieve your goals.
Ruth King graduated with degrees in Chemical Engineering and a Masters of Business Administration in Finance.  She discovered her love for financials and numbers…and has guided business owners in the financial side of their businesses since 1981. She founded Women in HVACR in 2002.  The organization has grown to over 1200 members.  (www.ruthking.info)
Location:-
Blackfriars Lecture Theatre
LSBU Hub
London South Bank University
110-116 London Road
London SE1 6LN
Date: 22 November 2023
Time: 18:00-20:00
If you not able to join us in person, you can register to attend the session online.